The Cooper Trooper Foundation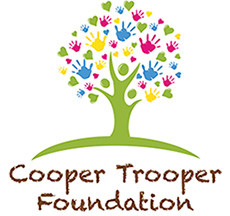 The Cooper Trooper Foundation's mission is to support the fight against childhood cancer in two tangible ways:
1.) Distribution of Caring and Courage Kits to the well siblings of children diagnosed with cancer.
CTF is committed to enhancing total family treatment and wellness in battling childhood cancer through the development and distribution of Cooper Trooper Courage Kits. These kits assist parents/guardians in addressing socio-emotional and psychotherapy needs of well siblings of children diagnosed with cancer. The kits are provided at the onset of diagnosis in a clinical setting for parents to bring home to their well children, thus serving as a proactive, caring, educational resource for helping the siblings, who are often feeling "left out" during this time.
2.) Financially investing in The Cooper Trooper Foundation Pediatric Cancer Research Endowment Fund, which is set up at Monroe Carell Jr. Children's Hospital at Vanderbilt.
CTF realizes the great need for more awareness and research in the area of pediatric cancer. In fact, of the National Cancer Institute's federal budget, only about 3% goes specifically to pediatric cancer research. The American Cancer Society spends less than 70 cents for each $100.00 raised on childhood cancers. This is not acceptable. There needs to be more money spent to research treatments, and more importantly, find cures for this horrible disease that is the #1 killer of our children. The Endowed Fund initiated by CTF, financially supports research specific to childhood cancers.
Clay Madsen Foundation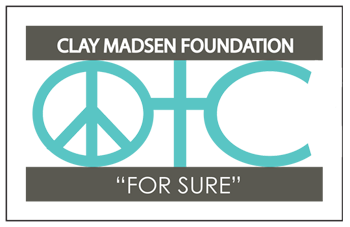 Clay Madsen, a star football and baseball player before being stricken with cancer during his junior year at Round Rock High School, lost his battle to the disease November 4, 1992. Clay was not only an outstanding athlete, but an exemplary student, leader, role model and friend. In 2002, his family established the Clay Madsen Foundation to honor Clay by aiding families in his community who are fighting their own battles with cancer, and to help support these families in their efforts to fight this disease.
Before Clay passed, he asked his father, "Where are we going?" His father replied, "We are going to the house of the Lord." To which Clay answered his last words, "For Sure!"
The mission of the Foundation is:
To raise money and awareness for families with children with childhood cancer.
And to encourage and empower others to get involved and make a difference for children with cancer.
The Andrew McDonough B+ Foundation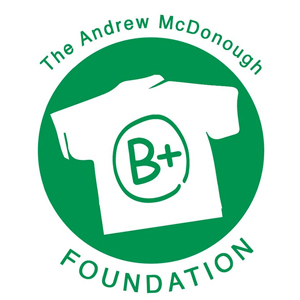 The Andrew McDonough B+ Foundation honors the life of Andrew McDonough, who battled leukemia, septic shock, and complications of childhood cancer for 167 days before passing away on July 14, 2007, at the age of 14. Andrew's B+ blood type became his family's and friends' motto throughout his fight against childhood cancer — to "Be Positive".
The B+ Foundation is dedicated to:
1.) Providing financial assistance to families of children with cancer.
2.) Funding research grants to institutions, such as St. Jude Children's Research Hospital (TN), Dana-Farber Cancer Institute (MA), Seattle Children's Hospital (WA), Children's Oncology Group, and the Nemours Center for Childhood Cancer Research (DE) to find cures for childhood cancers and advancements in treatment protocols.
3.) Increasing awareness of childhood cancer and advocate for increased research funds.
4.) Spreading the B+ message! By spreading the B+ — Be Positive — message through outreach efforts and talks, we share the lessons that Andrew taught us: have fun, set goals and try your best, show affection, and be comfortable with yourself. We all need to "Live Like Andrew."
The Cure Starts Now Foundation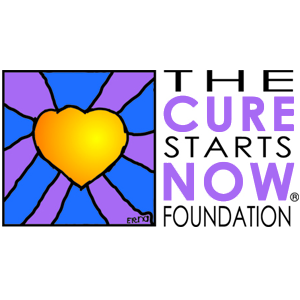 The Cure Starts Now represents something truly different.  For us it's not about fighting just one cancer, but the elimination of cancer as a whole.  We believe as the experts do; that in order to truly cure cancer you have to focus on those cancers that are immune to conventional treatments, those cancers for which there are no treatments, those cancers that affect children and those cancers that are the biggest bullies.  We call this the "homerun cure" and its invention isn't new.  As a matter of fact, the "homerun cure" strategy dates back to the early 1900's when we made bold advances in cancer research, leading to the invention of surgical efforts, radiation and finally chemotherapy.  But then we stopped, content to focus on treatments rather than cures, deciding to prioritize our resources on those cancers that affected the most people rather than those that we could learn the most from.  The Cure Starts Now is not just another cancer charity, but the only cancer charity dedicated to the "homerun cure" – curing cancer, one child at a time.
We focus on curing cancer with four separate foundational priorities:
Information – The collection of registry data, complete with genomic and demographic details on the cancers we fight.
Delivery – The invention of revolutionary methods to deliver treatments directly to the tumor, limiting ancillary side effects.
Translational – The strategic creation of new treatments and new drugs specifically engineered to fight cancer.
Clinical – The adaptation of existing treatments to help fight cancers in patients today.