White Cane
The white cane is a useful tool to millions of blind people in navigating their environments with confidence and safety. It allows blind or visually impaired people to feel surfaces and obstacles in front of them, helping them safely travel where and when they want, and be self-sufficient. White canes (not called "walking sticks") are often made from aluminum, graphite-reinforced plastic, or other fibre-reinforced plastic, and can come with a wide variety of tips depending upon user preference.  White canes can be either collapsible or straight, with both versions having pros and cons.
Kiara's white cane is collapsible, which makes it convenient to stow when we're at a restaurant or ball game. She has a ball tip on the end so that she can sweep it on the ground without it catching on sidewalk cracks or other obstacles.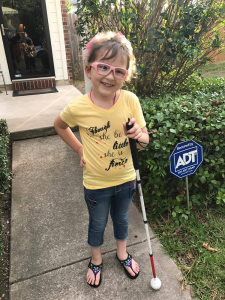 To learn more about walking with a white cane, check out this video. (Her entire YouTube channel is great!):
Every year on October 15, the President of the United States recognizes White Cane Day by the Blind Americans Equality Day Proclamation to acknowledge the abilities of people who are blind and to promote equal opportunities as any other American. The mission of White Cane Day is to educate the world about blindness and how the blind and visually impaired can live and work independently while giving back to their communities, to celebrate the abilities and successes achieved by blind people in a sighted world, and to honor the many contributions being made by the blind and visually impaired. There are usually community celebrations around this date, although it varies by city.